Was initially supposed to go to Youth service to accompany Jhui today,
but went to Jaqueline's birthday bbq celebration instead. Sorry Luv ! ;/
Met up with Dave @ Outram mrt & took the train down to Pasir ris together.
Coincidentally, saw Guanyi there as well.
Went over to the bbq pit together.
Desmond, Raven, Jiaxing & Jonathan were over there already ! Fast.
Slacked around & saw many people flying kites.
I wanted to fly too!
Thus, Dave accompanied me over to the shop to get kites.
Hellokitty kite for me & Doraemon kite for him ! Hahaha.
Tried flying the kite while waiting for the rest to arrive.
Xuannie arrived and came over to join us.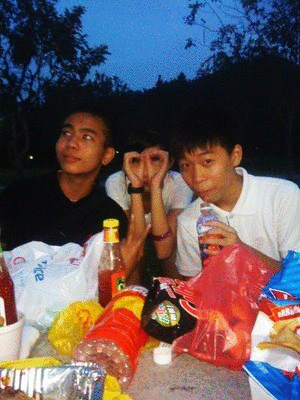 Finally, after waiting for soo long ! It's time to cute the cake.
The mermaid cake definetely put a big smile on Jacqueline's face.
"Happy birthday to you, happy birthday to you,
happy birthday to Jaqueline, happy birthday to you!"
Dave & Ah song started smashing the cake at Jaqueline's face,
and the whole place was like havoc.
Everybody screaming & running around,
looking like they've not showered for ages from the cake stains.
Damn funny, I swear.
Played with lightsticks for a little and went off.
Mrt with Dave, Jiemin & Xuannie.
Alighted at cityhall with Xuannie and bid our goodbyes.