Supposed to meet the girlies to town,
but last minute change of plans.
WHY IS OUR PLANS ALWAYS GETTING RUINED :(
Anyway, met these two assholes & I had an awesome day.
Though our day started rather ... dramatic. ROFL.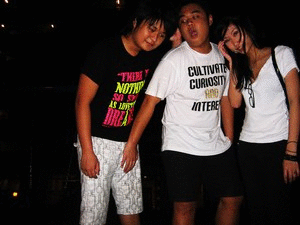 The guys came over to Bishan to fetch me over to bird's place.
SORRY FOR ALWAYS MAKING YOU GUYS WAIT;(
Milkshake was damn embarrasing ! HAHAHA. (Inside joke)
Stuff happened, and blah blah blah.
Dinner @ Srgn central macs.
Then, over to Junction 8ight, cos' Angeline wanted to get vcds !
Over to the nearby playground cos' we wanted to play with the swings !